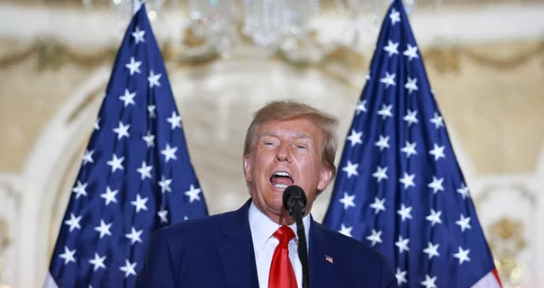 In a Manhattan court this week, Donald Trump, who is facing 34 felony counts of falsifying business records, called President Joseph Biden and the White House "morons" for their hurried pullout of soldiers from Afghanistan in August 2021.
The US government admitted on Thursday that the pullout of Afghanistan should have begun much earlier than it did, though it largely placed the blame on Biden's predecessor, Trump.
The fall of the Afghan government and its military, as well as the re-establishment of the Taliban as the ruling party, occurred shortly after the Biden administration's call for an immediate end to the never-ending conflict in Afghanistan in the spring of 2021.
An upsurge in violence that affected both Afghan civilians and US service personnel followed the country's withdrawal of American troops, with an Islamic State suicide bomber carrying out an attack that claimed the lives of 13 US service members and about 170 civilians.
John F. Kirby, a spokesperson for the White House, stated on Thursday that "clearly we didn't get things right here with Afghanistan with how fast the Taliban was moving across the country."
The government has now altered its policies to conduct evacuations more sooner when safety conditions in the field deteriorate as a result of the withdrawal from Afghanistan in 2021.
Kirby, however, also defended the White House's attempts to evacuate troops and civilians, saying that "for all this talk of chaos, I just didn't see it." and placed much of the blame for the tardy and hurried withdrawal on Trump when confronted with questions from reporters about the government's review for more than an hour.
Trump and the Taliban had already agreed that he would withdraw troops from Afghanistan by the spring of 2021. According to Kirby, the Taliban outnumbered the estimated 2,500 American soldiers in Afghanistan at the time Biden took office.
The White House's admission that the withdrawal was made too hastily has been welcomed by Trump, who has called the Biden administration's attempt to pin the blame on him "a new disinformation game."
Trump wrote on Truth Social, "These Morons in the White House, who are systematically destroying our Country, headed up by the biggest Moron of them all, Hopeless Joe Biden, have a new disinformation game they are playing—Blame 'TRUMP' for their grossly incompetent SURRENDER in Afghanistan.I watched this disaster unfold just like everyone else. I saw them take out the Military FIRST, GIVE $85 Billion of military equipment, allow the killing of our soldiers, and leave Americans behind. Biden is responsible, no one else!"