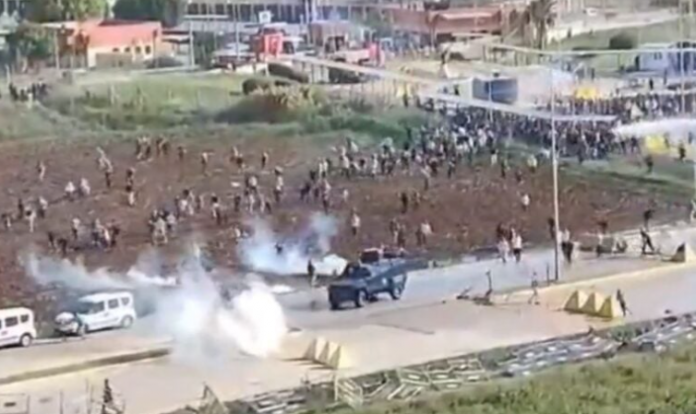 Turkish authorities employed tear gas and water cannons as hundreds of individuals participating in a pro-Palestinian demonstration on Sunday attempted to breach an air base housing U.S. military personnel. This occurred just hours before U.S. Secretary of State Antony Blinken's scheduled visit to Ankara for discussions concerning the Gaza situation.
Turkey, which has escalated its criticism of Israel amid the deteriorating humanitarian situation in Gaza, advocates for a two-state solution and provides shelter to members of the Palestinian militant organization, Hamas. Protests have erupted across the country since the onset of the Israel-Hamas conflict.
At the start of the current week, the IHH Humanitarian Relief Foundation, a Turkish aid organization with Islamic affiliations, coordinated a convoy destined for the Incirlik air base located in Turkey's southern Adana province. The purpose of this initiative was to express opposition to Israeli actions in Gaza and U.S. backing of Israel.
Incirlik, a facility that has been utilized to assist the international coalition engaged in combatting the Islamic State in Syria and Iraq, also accommodates U.S. military personnel. The demonstration organized by IHH advocated for the closure of Incirlik.
Video footage from the demonstrations depicted law enforcement officers deploying tear gas and employing water cannons to scatter gatherings of individuals brandishing Turkish and Palestinian flags while vocally expressing their views. Protesters overturned barriers and engaged in confrontations with police officers donning riot gear.
Demonstrators were observed throwing plastic chairs, stones, and various objects in the direction of law enforcement officers, prompting the police to respond by deploying smoke bombs amidst the crowds. Altercations ensued between the protesters and security personnel. Bulent Yildirim, the President of IHH, addressed the assemblage in Adana and encouraged them to abstain from assaulting the police.
"Friends, it is wrong to throw rocks or do similar things because both the police and soldiers would want to go to Gaza and fight and they will go when the time comes. Our rage is huge. We cannot hold it in. But Turkey is doing what it can."
The demonstration occurred shortly before Blinken's planned arrival in Ankara for discussions regarding Gaza, where he is scheduled to meet with his Turkish counterpart, Hakan Fidan, on Monday. This event took place against the backdrop of Ankara's recurrent expressions of disapproval towards Western nations for their backing of Israel.