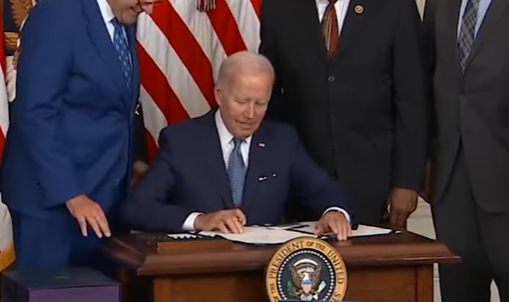 On Wednesday, 33 Democratic senators joined Republicans to oppose a contentious revision to the criminal code of Washington, DC, which would have reduced the maximum punishments for violent crimes, including car thefts.
With every Republican senator supporting the resolution presented by Sen. Bill Hagerty, the upper house passed the resolution blocking the DC City Council's bill 81–14. (R-Tenn.).
The bill is currently on President Biden's desk after he declared last week that he would not veto it, angering some Democrats and members of the DC government.
Mitch McConnell, the Republican minority leader in the Senate, made the statement on Wednesday, "Carjackings and car thefts have become a daily routine. Homicides are racking up at a rate of four per week. This is our capital city. But local politicians have let its streets become a danger and an embarrassment."
Senate blocks DC crime bill, sending measure to Biden's desk days after prez said he'd sign https://t.co/Xn9k6bhyVt pic.twitter.com/04OOAObZwP

— New York Post (@nypost) March 9, 2023
During a caucus meal last week, Biden, 80, assured Senate Democrats that he would sign the bill.
Afterwards, Biden said in a tweet that he would not veto the law, "I support D.C. Statehood and home-rule – but I don't support some of the changes D.C. Council put forward over the Mayor's objections – such as lowering penalties for carjackings. If the Senate votes to overturn what D.C. Council did – I'll sign it."
Several Senate Democrats, including those up for re-election in 2024 including Senators. Joe Manchin (D-W.Va.), Jon Tester (D-Mont. ), and Sherrod Brown (D-Ohio), supported the resolution with Biden's support, as did Senate Majority Leader Chuck Schumer.
The DC legislation was overruled by the House by a vote of 250 to 173 last month, with 31 Democrats joining all of the Republicans in support.