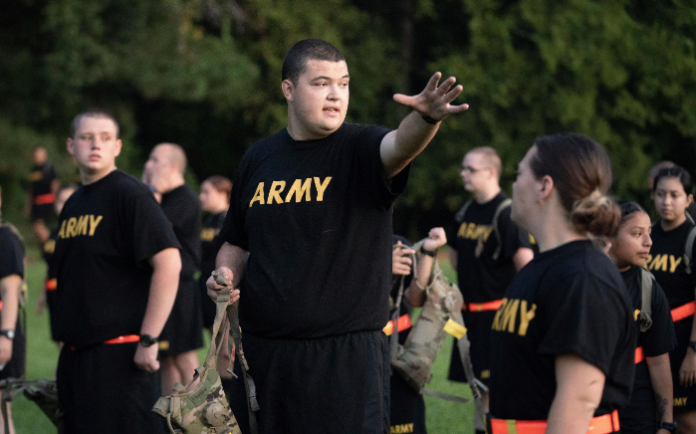 The U.S. military has encountered several challenges recently when it comes to enlisting new soldiers, particularly in a country grappling with a growing issue of obesity among its youth. However, President Joe Biden's strong focus on promoting progressive ideology among recruits, instead of emphasizing combat training, is exacerbating these issues.
For example, the U.S. Army has initiated a fresh initiative known as the Future Soldier Preparatory Course. This program is designed for recruits who do not meet the immediate fitness criteria for military service due to excess weight. These individuals are enrolled in a 90-day program aimed at helping them shed the necessary pounds to qualify for basic training.
Prospective soldiers sent to the training facility located in Fort Jackson, South Carolina, are granted provisional recruit status while they undergo a 90-day pre-induction training phase. It is worth mentioning that out of the most recent cohort of 989 individuals who completed basic training, 278 had previously participated in the Future Soldier Preparatory Course.
The pre-basic training initiative caters to not only recruits struggling with weight issues but also those who faced challenges in academic areas, such as failing the math entrance exam or other academic assessments.
Within this department, prospective recruits receive tutoring to improve their academic performance, enabling them to attain the required scores on the Army's written test, known as the Armed Services Vocational Aptitude Battery (ASVAB).
The recruiting situation has become sufficiently dire that the U.S. Department of Health and Human Services, in collaboration with the Centers for Disease Control and Prevention, jointly released an infographic titled "Unfit to Serve, Obesity and Physical Inactivity Are Impacting National Security."
Regrettably, the Pentagon finds it essential to provide these services due to a significant number of high school graduates facing severe weight issues and a lack of fundamental proficiency in subjects like math, science, English, and writing.
According to the Pentagon's findings, a staggering 77 percent of individuals within the eligible recruitment age bracket fail to meet the criteria for military service. This shortfall is attributed to factors such as substance abuse, obesity, and both mental and physical health challenges.
As reported by Military.com, the Army, Navy, and Air Force are all expected to fall short of their recruiting targets for the year 2023. Consequently, the Pentagon, in its pursuit of progressive ideals, is now grappling with the urgent task of addressing the decline in their recruitment numbers.
Indeed, concerning the ASVAB, the Pentagon has already implemented measures to simplify the test, including permitting the use of calculators during the math section.
The ASVAB had maintained a largely consistent format since its inception in 1968 until recent developments, when it faced criticism for alleged racial bias favoring white individuals.
Additionally, as reported by the Military Times in March of the preceding year, the Pentagon has started reducing fitness criteria to enhance recruit intake. Further alterations to these requirements were introduced earlier this year.