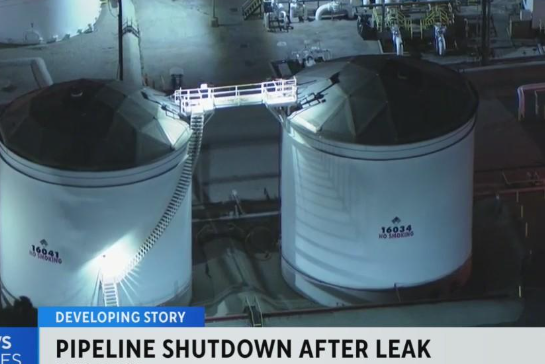 Nevada On Friday night, Governor Joe Lombardo announced a state of emergency due to a fuel leak in Southern California, which prompted the pipeline that supplies Las Vegas and southern Nevada to shut down. The governor stated, "Tonight, I am declaring a state of emergency for the fuel pipeline leak impacting Southern Nevada. This emergency declaration will allow us to receive federal waivers and resources as we navigate the evolving repair timeline, and it will allow us to increase transportation of fuel by other means during this time."
He also encouraged residents to avoid buying in a frenzy, saying,"Once estimated repair times are finalized, our office will provide an update. To avoid any unnecessary shortages, I strongly urge all Las Vegas residents to avoid panic buying while awaiting repair timeline updates." Despite the governor's appeal, lengthy queues of drivers are already developing to fill up their tanks.
🚨#BREAKING: State of emergency declared for Nevada after major fuel pipeline leak

📌#Nevada | #USA

Nevada Gov. Joe Lombardo issued a State of Emergency yesterday after a pipeline that supplies fuel to shut down due to a leak at a pumping station in Long Beach, California. The… https://t.co/Z9HQQXNjfR pic.twitter.com/8X0WBAixWN

— R A W S A L E R T S (@rawsalerts) February 12, 2023
The leak was discovered on Thursday at a pumping station in Long Beach, California, according to Kinder Morgan Energy Partners, which operates the affected pipeline. Clark County sent an update on Saturday, noting that they are monitoring the situation and expect the pipeline to reopen in the afternoon. The county urged residents to save fuel and avoid impulse purchases.
They intend to maintain their emergency declaration until they are sure that the normal amount of fuel is flowing through the pipeline. The county also indicated that they will continue to collaborate with local, state, and federal stakeholders to ensure that they are prepared to handle similar events in the future.
"As a precaution, local residents are encouraged to help with conserving fuel and avoid panic buying to limit potential impacts due to this temporary disruption."
"Moving forward, Clark County will continue to work in coordination with local, state and federal stakeholders as well as our transportation partners who help to move fuel into and around the region to ensure we continue to be equipped to weather such an emergency like this in the future."