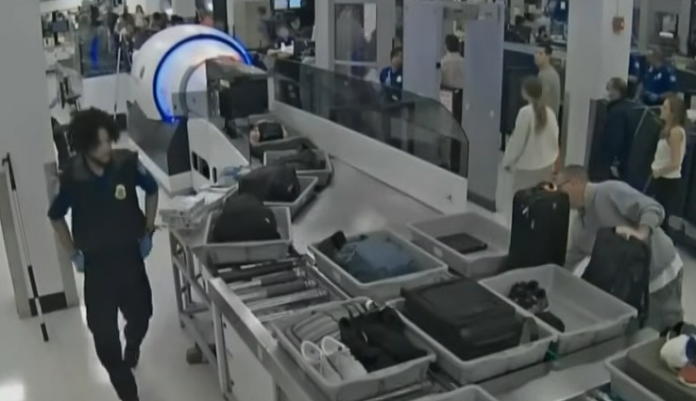 Freshly unveiled surveillance video has documented the instance when two TSA officers purportedly pilfered a minimum of $600 in currency and various belongings from unassuming travelers' baggage at a Florida airport.
The individuals in question, Josue Gonzalez, aged 20, and Labarrius Williams, aged 33, were captured on film as they allegedly sifted through the belongings of passengers queuing up for the security scanner at Checkpoint E within Miami International Airport back in June.
In July, law enforcement authorities apprehended the TSA employees after initiating an inquiry into allegations of theft taking place at the security checkpoint, as reported by NBC6.
Footage from the checkpoint reveals the two accused individuals stationed at the baggage drop-off section of the checkpoint, collaborating to extract money from wallets and purses passing through on their way to the X-ray machine.
At a certain juncture, the audacious duo positioned themselves side by side, engaging in what seemed like a conversation, while Williams covertly delved into a black bag, extracting an item and leaving it in a bin until Gonzalez relocated the bin onto the conveyor belt and discreetly took possession of the item, as depicted in video material obtained by NBC Miami.
Subsequently, Gonzalez was observed inspecting the contents of a Louis Vuitton bag, leaving the item within a bin until he could discreetly retrieve it further along in the queue.
It was disclosed by the news source that Gonzalez and Williams' illicit takings encompassed the theft of $600 from a passenger's wallet. These thefts transpired when passengers were preoccupied with their own security screenings, inadvertently diverting their attention from their belongings.
In July, the two officers, alongside their colleague Elizabeth Fuster, aged 22, were apprehended on charges related to their alleged involvement in an organized plot to engage in fraudulent activities. Fuster and Gonzalez acknowledged their involvement in multiple theft incidents from travelers, conceding to appropriating an average of $1,000 daily during their collaborative shifts.
Fuster's charge was dismissed in August, whereas both Gonzalez and Williams have entered pleas of not guilty in response to the third-degree felony grand theft charges filed against them, as documented in Miami-Dade County court records, as seen by The Post. Gonzalez has opted for enrollment in a deferred prosecution program, which, upon successful completion, may result in the dismissal of his charges.
Additionally, he will be required to compensate the identified victims with a sum of $700 and fulfill 25 hours of community service. Furthermore, he will forfeit his airport credentials, as outlined by the news source. In contrast, Williams did not secure admission into the program and is set to proceed to trial in October.