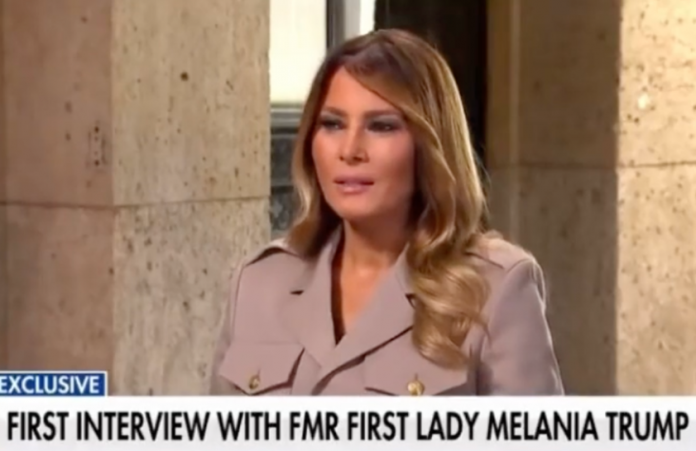 Former First Lady Melania Trump is firmly standing by her husband's endeavor to regain the presidency, affirming that she supports him wholeheartedly and expressing her willingness to once again assume the role of the nation's First Lady, which she considers a great honor.
In an interview with Fox News Digital, Melania Trump provided a rare insight into her position as President Donald Trump's trusted confidant and advocate. She emphasized her commitment to advocating for the welfare of children, ensuring that they receive the necessary support and resources to reach their maximum potential. During her time in the White House, Melania Trump spearheaded the "Be Best" initiative, which aimed to promote both physical and emotional well-being while addressing issues such as cyberbullying and opioid abuse.
"My focus would continue to be creating a safe and nurturing space for children to learn, grow, and thrive. If additional problems arise, I will take the time to study them and understand their root causes," she stated.
In a prior interview on Fox, Pete Hegseth had a conversation with Michael Weitzman, who became the inaugural beneficiary of the Fostering The Future scholarship established by Melania Trump. Weitzman recounted his experience of being raised in a foster home, born to a single mother at the age of 18, and enduring eight different living arrangements. At the age of 15, he was compelled to leave his foster family. Thanks to the scholarship, Weitzman will have the opportunity to pursue higher education by attending college.
The wife of President Trump made a significant impact on the White House through various endeavors, such as engaging in restoration projects and preserving the historical significance of the grounds. Inspired by the influential role played by former First Lady Jacqueline Kennedy Onassis during her husband John F. Kennedy's presidency, Melania Trump aspired to follow in her footsteps. There were hints from Trump herself about her desire to return to the White House, which coincided with President Trump's announcement of his intention to seek reelection in November.
According to recent polls, President Trump is currently leading as the top contender to secure the Republican Party's nomination in the face-off against the incumbent President Joe Biden. During a Sunday broadcast, George Stephanopoulos, the host of ABC News, expressed his surprise as he reported on Trump's commanding 7-point advantage over Biden. The support for Biden has waned among crucial demographic groups due to factors such as soaring inflation and rising interest rates, which have diminished enthusiasm for a potential second term.