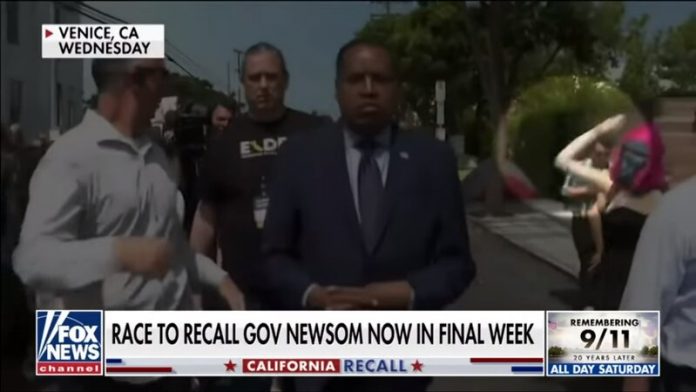 I have Wyoming property on the beachfront that you can buy if you believe that Democrats truly care about racial equity. Conservatives know that the Democratic party is the most racist party in America. This is supported by hundreds of stories, including those against Clarence Thomas and Burgess Owens. These are only political figures. We don't even count entertainers.
These stories might not be familiar, but the lame-stream media tried their best to censor them. If their employers are seen to be racist, hateful and provocateurs, they can't keep Democrats at power. Their cause is not helped by the fact that Democrats and Leftists have physically and verbally attacked black people and women for refusing membership in their Orwellian group.
Larry Elder, the Republican candidate against far-Left Governor. The media was silent when Gavin Newsom was attacked by an egg-wielding, pink-haired maniac wearing a gorilla mask in the recall election for California. Newsom also chose to ignore the whole situation. Newsom seems to believe that the whole incident will disappear if he pretends it didn't happen.
Taken From A Fox News report:
Embattled California Gov. Gavin Newsom is silent on the "racist" attack against Republican challenger Larry Elder as the highly contentious recall race continues its final stretch. Newsom, a Democrat, did not respond to Fox News' question on whether he would condemn the attack. The progressive governor has also been silent online, not even mentioning the attack on any of his social media channels.

Elder, who is Black, was attacked by a woman wearing a gorilla mask with pink hair, who threw an egg at the Republican frontrunner as he was touring a homeless encampment in Venice Beach — a serious issue facing the Golden State.

The conservative radio host also said after the attack that his security detail was "shot with a pellet gun," vowing the "intolerant left" will not stop his campaign. The attack was condemned as "racist" online, with many conservatives pointing out that the assault would be front-page news if it was a Democrat on the receiving end of the egg attack.
Obviously, the silence irritated many. Here are just a couple of tweets…
A blatant racist wearing a gorilla mask attacked @larryelder these people are completely unhinged. Thanks @latimes look what you have done. https://t.co/vHu43rDJMB

— Jeffery A Dove Jr. (@JefferyADoveJr) September 8, 2021
That a black gubernatorial candidate can have eggs thrown at him by a white woman in a gorilla mask, with zero condemnation or coverage, tells you all you need to know about the left and their media allies.

Everything is racist. Unless racism is targeted toward a Republican.

— Dan Crenshaw (@DanCrenshawTX) September 9, 2021
Same Energy.
Different Era. pic.twitter.com/OIMQpl1oOB

— Benny (@bennyjohnson) September 8, 2021
Put any black Democrat in that picture and you have the cover of every newspaper in America tomorrow.

The people are with you @larryelder.https://t.co/QCohv7h4Mw https://t.co/WTR2qzhldT

— Dave Rubin (@RubinReport) September 9, 2021
All of the tweeters are correct. This story would have been a "breaking news" alert if it had happened to any Democrat (they don't even need to be black). It would have been spread across every national news station and internationally. The bizarre woman on her bike would be shown in every publication. Questions would arise about whether this is what the GOP considers unbiased or if she tried to kill a politician who fights for justice. Conservative politicians would be subject to verbal abuse and grouped with white supremacists and white nationalists. The entire Leftist party, their constituents and all of them would call their opposition racists and bigots and monsters and use any other insults they could.