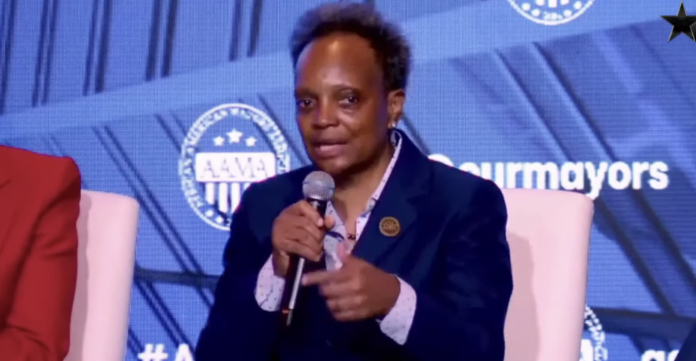 The former mayor of Chicago, Lori Lightfoot, called on Democratic mayors to "speak the truth" about violent crime and finally exposed the truth about the carnage ravaging our great American cities. Lightfoot stated on a panel at the African American Mayors Association Conference on Friday in Washington, DC, "As Democrats, if we do not speak the truth about violent crime in our cities, we will be the worse for it. I come to this conversation as a former federal prosecutor. I come to this as a former defense attorney, I am the sister of a returning resident. But I know that there are people in my city that are wreaking havoc every day and need to be off the streets. That's reality. What do we say to, not only the victims of crime, but the people who are terrified about crimes in their neighborhood, most of whom look like us."
What does it say to them, she added, if someone summons the guts to come forward and name the perpetrator of the recent shooting in their area, only to see Pookie wandering around again two days later, bold as day?
"You're telling them that the criminal justice system doesn't care about victims and witnesses."
Too little, too late, or both? Outgoing Mayor Lightfoot explains why Chicago crime is so darn high. #thatreporter pic.twitter.com/745Y5Bh6IP

— Reporter William J. Kelly #thatreporter (@Williamjkelly) April 21, 2023
She continued by saying that she was certain to miss an opportunity to speak up for the victims, witnesses, and locals who simply want and deserve peace if she didn't call that out every single day with these prosecutors and judges, many of whom don't live in their cities and don't care what's going on.
"What I saw and what I see is people in my neighborhoods who have been starved for resources. There are areas in my city that looked like the fires of '68 just got put out. Black folks have represented those areas forever. Why is it? Why is it that we have taken so long for ourselves to wake up? If we are content with crumbs, our people will never, ever prosper."