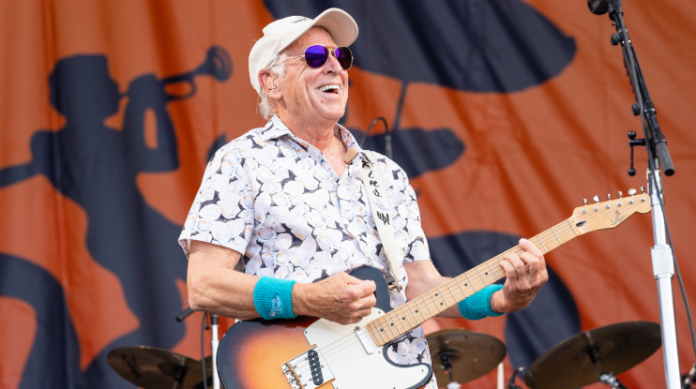 The renowned singer-songwriter Jimmy Buffett passed away peacefully on Friday while being surrounded by his loved ones.
He was 76 years old.
"Jimmy passed away peacefully on the night of September 1st surrounded by his family, friends, music and dogs," the tropical rocker's loved ones said in a statement on Instagram. "He lived his life like a song till the very last breath and will be missed beyond measure by so many."
Just a few months after having to cancel a number of his gigs due to a string of hospitalizations, the "Margaritaville" singer's passing was reported on social media.
Speaking to fans in May, Buffett said he had to "address some issues that needed immediate attention," before playfully adding, "Growing old is not for sissies, I promise you."
"I also will promise you, that when I am well enough to perform, that is what I'll be doing in the land of She-Crab soup," he said at the time. "You all make my life more meaningful and fulfilled than I would have ever imagined as a toe-headed [sic] little boy sitting on the edge of the Gulf of Mexico."
"Thank you for your prayers and thoughts, your amazing years of loyalty, and just remember, 'NOT YET!' Love to all," he concluded his May 18 post.
Months later, the legendary performer gave a spontaneous performance for a group of lucky Portsmouth, Rhode Island, residents.
With a career spanning 60 years and singles like "It's 5 O'Clock Somewhere" and "Trip Around the Sun," Buffett established himself as one of the most alluring figures in music.
Before he passed away, Buffett was preparing to release his new album, "Songs You Don't Know by Heart."
Numerous top hits from the 1970s and 1980s can be found in his illustrious career, which saw him produce over 50 albums. These songs include the number-one singles "Margaritaville," "Come Monday," and "Cheeseburger in Paradise."
Take a Look At Some Of His Top Hits:
Most of his albums have earned him gold, platinum, or multi-platinum awards, and his popularity has led to sold-out performances and international tours.
Buffett earned a number of Country Music Association honors and was even elected into the Nashville Songwriters Hall of Fame, despite the fact that he was never a Grammy winner despite being nominated twice.
The rocker, who was born on Christmas Day in 1946 in Pascagoula, Mississippi, grew up in Alabama and developed a passion for sailing as a fourth generation sailor.
He later put his love for sailing on the back burner as he began to shift his focus to music.
Buffett leaves behind his $1 billion fortune in addition to his amazing discography.
The singer was recognized by Forbes earlier this year as a billionaire after his numerous business endeavors helped him to position himself as one of the richest singers.
His astonishing net worth was boosted by his impressive $180 million investment in Margaritaville, his well-known chain restaurant that debuted in 1985, and by an estimated $570 million in earnings from touring and recording.
The artist leaves behind a $140 million portfolio of homes and planes as well as a $50 million song library.
"If you're an artist, if you want to have control of your life… then you gotta be a businessman, like it or not," he told Forbes in 1994. "So the businessman evolved out of being an artist."
Buffett published a number of books, including children's books with his daughter Savannah when he wasn't performing live.
He occasionally tried his hand at acting, taking on a few minor parts or portraying himself. Buffett's final acting role came in the popular CBS series "Blue Bloods" in 2022.
Buffett leaves behind his three daughters, Savannah, Sarah Delaney, and Cameron. He has been married to Jane Slagsvol since 1977.