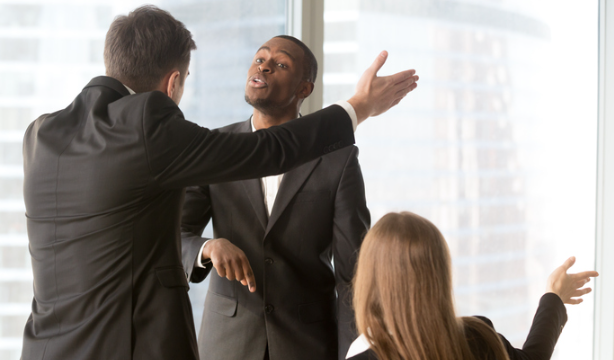 In the aftermath of the shooting at The Covenant School in Nashville, two politicians engaged in a verbal spat outside the House chamber on Wednesday. The issues at hand were efforts to restrict gun violence in schools.
Reps. Jamaal Bowman (D-NY) and Thomas Massie (R-KY) got into a heated argument after the Kentucky congressman yelled at his Republican colleagues as they left the chamber for opposing stricter gun control measures in the wake of Monday's shooting, which claimed the lives of three adults and three children.
Rep. Jamaal Bowman and Rep. Thomas Massie just got in something of a shouting match off the House floor over gun control pic.twitter.com/xvRAoxQQPL

— Emily Brooks (@emilybrooksnews) March 29, 2023
"They're cowards! They're all cowards! They won't do anything to save the lives of our children at all. Cowards! Pressure them. Force them to respond to the question, 'Why the hell don't you do anything to save America's children?' And let them explain that all the way up to Election Day in 2024. They're freaking cowards. They're gutless," former Bronx middle school administrator Bowman yelled as the Republican lawmakers passed by in the corridor.
Gun owner and co-chairman of the House Second Amendment Caucus Massie was alerted to the outburst and asked Bowman what was making him so angry.
Bowman said, "I'm talking about gun violence."
Bowman was having none of Massie's attempts to persuade him that arming teachers may be a method to prevent school shootings.
Massie remarked, "You know, there's never been a school shooting in a school that allows teachers to carry."
"Carry guns? More guns lead to more death!," Bowman replied in disbelief.
The New York Democrat said, "Look at the data. You're not looking at any data."
Rep. Steny Hoyer (D-Md.), who is 83 years old, tried to step in at one point but failed to catch the angry congressman's attention.
The tense encounter was captured on camera, and both legislators posted it to Twitter. Massie wrote, "He wanted to discuss solutions to school shootings, but when I offered a solution he began shouting. When he asked for data, I gave him data, but then he just shouted more. Bring facts. There's never been a school shooting in the hundreds of schools that allow staff to carry."