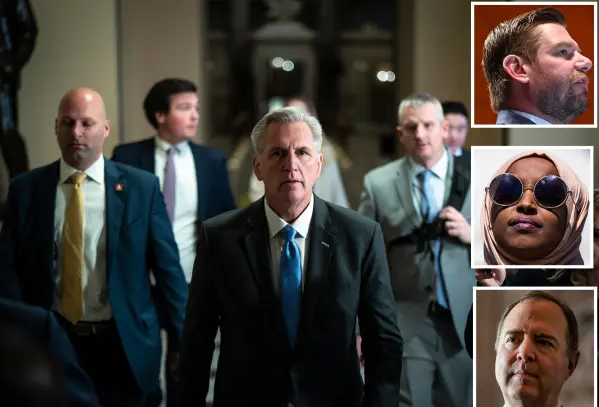 Late on Monday, House Speaker Kevin McCarthy declared that he will follow through on his pre-midterm promise to release Reps. Adam Schiff, Eric Swalwell, and Ilhan Omar from their respective House committees.
According to McCarthy (R-Calif.), who made the announcement to the Associated Press, he will remove the three from their positions as retaliation for Democrats removing Reps. Paul Gosar (R-Ariz.) and Marjorie Taylor Greene (R-Ga.) from their panels during the previous Congress.
Both California representatives Schiff and Swalwell would be dismissed from the House Intelligence Committee, while Omar of Minnesota would be dismissed from the House Foreign Affairs Committee.
McCarthy promised to fire the three Democrats nearly exactly one year ago if Republicans took back the House in the 2022 midterm elections, and he reaffirmed that statement last November after his prediction came true.
Kevin McCarthy confirms House panel boot for Schiff, Swalwell and Omar https://t.co/9r2lWaMQg2 pic.twitter.com/iDITqAJ3I3

— New York Post (@nypost) January 10, 2023
McCarthy claimed in January of last year that "The Democrats have created a new thing where they're picking and choosing who could be on committee. Never in the history of Congress have you had the majority tell the minority who could be on committee, but this new standard, which these Democrats have voted for — if Eric Swalwell cannot get a security clearance in the private sector, there's no reason why he should be given one to be on Intel or Homeland Security."
Following claims in 2020 that a potential Chinese spy had gotten close to the congressman and infiltrated his campaign, McCarthy has stated that he is concerned that Swalwell may be compromised.
In November, McCarthy spoke on Fox News, "Eric Swalwell cannot get a security clearance in the public sector. Why would we ever give him a security clearance in the secrets to America? So, I will not allow him to be on Intel. You have Adam Schiff, who has lied to the American public time and again. We will not allow him to be on the Intel Committee either."
Omar, a member of the liberal "Squad," along with Rep. Alexandria Ocasio-Cortez (D-NY), will be removed from the Foreign Affairs Committee as a result of her anti-Semitic rants, according to McCarthy.
At the Republican Jewish Coalition's leadership conference for 2022 in November, he told the audience,
"I promised you last year that as speaker she will no longer be on Foreign Affairs, and I'm keeping that promise."