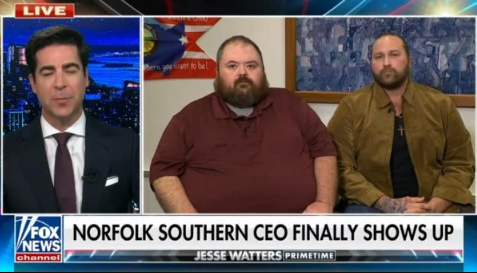 Trent Conaway, the mayor of East Palestine, has criticized Joe Biden for handing Ukraine another $500 million but avoiding the Ohio town that was shaken by a deadly chemical spill.
"Absolutely. That was the biggest slap in the face. That tells you right now that he doesn't care about us. He can send every agency he wants to, but I found out this morning in one of the briefings that he was over there in Ukraine giving millions of dollars away to people over there and not to us," Conaway said.
East Palestine, Ohio Mayor Trent Conaway: "I found out today through one of the briefings that [Biden] was in the Ukraine giving millions to people over there and doing nothing for us. I'm furious."pic.twitter.com/8jn32aI4kc

— Max Blumenthal (@MaxBlumenthal) February 21, 2023
The mayor continued to say, "I'm furious. On President's Day here in our country, he's over in Ukraine. That tells you what kind of guy he is."
The mayor claimed to have spoken with Alan Shaw, CEO of Norfolk Southern, and thought that he appeared honest. He conveyed a sense of concern.
"But we have to trust him right now. As soon as he does anything that we feel that we can't trust, then I'll have to go back to the media or government officials that are higher than me to make him do what he said he's going to do."
Lenny Glavin, an East Palestine resident, called Shaw's visit to the area and meeting with residents a "start."
Sen. Sherrod Brown of Ohio asserted that Ohioans had every right to be dubious about their state's water supply during an interview on CNN's "State of the Union" on Sunday.
"Well, they're right to be skeptical. We think the water is safe, but when you return to your home, you should be tested again for your water and your soil and your air, not to mention those that have their own wells," Brown remarked.