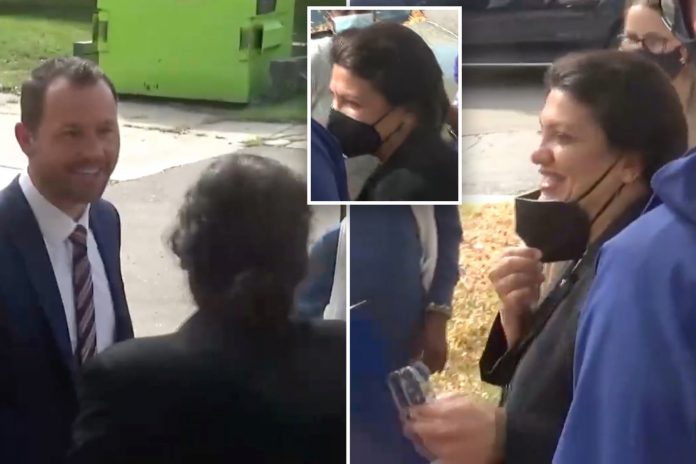 Many politicians have adopted a "do what I say, not what I do" approach to pandemic-related regulations.
U.S. Rep. Rashida Tlaib, D-MI, was one of them. She was seen on camera laughing that she was wearing a mask to an event because a "Republican tracker", as the Washington Free Beacon reported.
According to reports, the revealing comment from the Michigan-based far-left "Squad", was made at an event she attended in Detroit with President Joe Biden's Housing and Urban Development Secretary Marcia Fudge.
Masking just for show
A video from the Free Beacon shows that a masked Tlaib was outside speaking with other masked people when an unmasked man approached him and joined the conversation.
The congresswoman seemed to distance herself from the man, or perhaps he believed he was being chastised because he didn't wear a mask. Tlaib quickly moved closer to correct the apparent mistake.
"Oh, no, oh, not you!" Tlaib said as she leaned in and briefly pulled her mask down to her chin, according to the Free Beacon. "No, no, no — I'm just wearing it because I've got a Republican tracker here," she added with a wave of her hand toward the individual recording.
Caught on Video: @RashidaTlaib Admits She Only Wears Mask for Cameras

"I'm just wearing it because I've got a Republican tracker here"

Via @CAndersonMOhttps://t.co/AXLSdZB7SE pic.twitter.com/OlktNkZjzM

— Washington Free Beacon (@FreeBeacon) October 6, 2021
Hypocritical virtue signaling
According to the Washington Examiner, Rep. Tlaib has not only shown hypocrisy in violating or dismissing the mask rules she publicly touts, but it's not the first time.
Tlaib, who was seen dancing the night away without masks at an indoor wedding reception, was spotted in Dearborn, Michigan, in August. This is an area where masks are strongly recommended for all those gathered in indoor facilities.
According to Fox News at that time, Dearborn's Wayne County was in the Center for Disease Control and Prevention (CDC)'s "orange" category. This means there was a "substantial chance" of COVID-19 infection. Therefore, masks should always be worn indoors and among large groups.
The congresswoman's hypocrisy is compounded by the fact that she had just sharply criticized Senator Rand Paul (R-KY), for encouraging Americans not to follow the CDC recommendations and local restrictions based on them. In other words, exactly the same thing Tlaib did the next day.
The KY Senator is throwing a tantrum as his state is being swallowed whole by this virus, again.

People are getting sick and dying.

98 counties in Kentucky have a high incidence rate of COVID-19.

He needs to put politics aside, and put people first. Start resisting the virus. https://t.co/ZgfqVxN4KL pic.twitter.com/XmLIFvvR23

— Rashida Tlaib (@RashidaTlaib) August 9, 2021