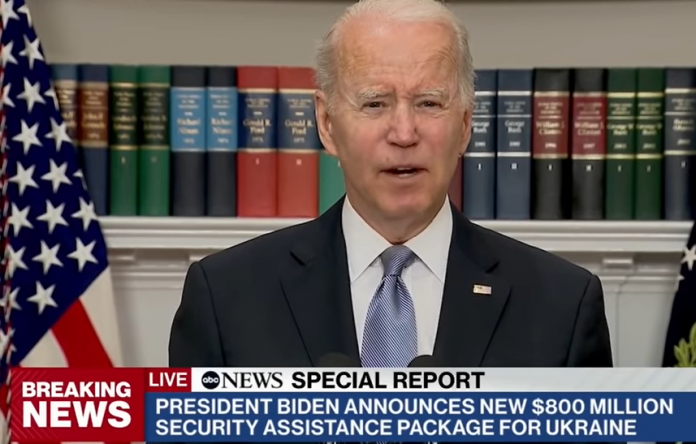 After Congress voted Wednesday to give Ukraine another $40 billion, Rep. Thomas Massie (R-KY) noted that the United States will have spent more on Ukraine in six months than it did on all roads and bridges in the United States for the year, while other lawmakers noted that the United States is experiencing a baby formula shortage that is causing a crisis for parents.
Counting last night's rushed vote, Congress has now spent more money on Ukraine in six months than we spend on all US roads and bridges in a year.

… something to think about the next time you are stuck in traffic or replacing a bent rim.

— Thomas Massie (@RepThomasMassie) May 11, 2022
Massie and 56 other Republicans voted against the hurried Ukraine assistance bill, claiming that Democrats put America last in their hurry to provide help.
Popular baby formula brands are out of supply in at least 40% of retailers countrywide, despite rising birth rates and fewer mothers nursing.
Switching infant formulas abruptly can cause gastrointestinal discomfort, and some newborns require specialized formula brands due to allergies or sensitivities.
Republicans on the House Energy and Commerce Committee led a letter to the Food and Drug Administration and the Biden administration, urging them to address the shortage immediately before it becomes a life-or-death situation for babies who must be breastfed or fed formula for the first year of their lives.
When traces of a hazardous bacteria were discovered, manufacture of baby formula was halted at a big factory in Michigan, and numerous newborns were affected by the same pathogen.
Furthermore, supply chain concerns during the epidemic impacted formula, which witnessed a spike in demand early in the pandemic before dropping off in 2021 as parents consumed their pandemic stocks. The current surge in demand took manufacturers off guard, and increasing output will take some time.