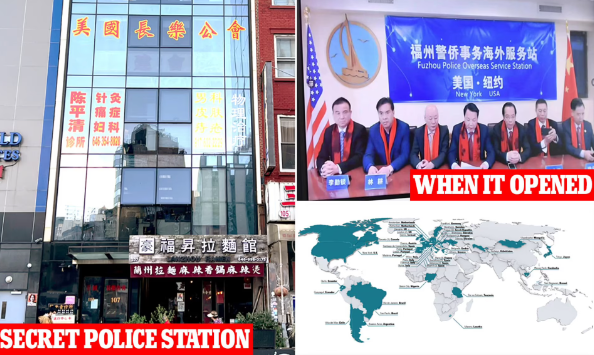 These stations are present all over the world, including in New York, according to a report published in September by the NGO Safeguard Defenders.
Christopher Wray, the director of the FBI, informed senior politicians that the organization was keeping an eye on allegations of similar centers across the nation.
"We are aware of the existence of these stations. To me, it is outrageous to think that the Chinese police would attempt to set up shop, you know, in New York, let's say, without proper coordination. It violates sovereignty and circumvents standard judicial and law enforcement cooperation processes," Mr Wray said.
When asked if the stations broke US law, Mr. Wray replied that the FBI was investigating the regulations.
Senior lawmakers grilled the senior intelligence official when he testified before the US Senate Homeland Security and Governmental Affairs Committee.
Chinese public security bureaus have created abroad police service stations in many continents, including two in London and one in Glasgow, according to the Spanish NGO Safeguard Defenders. It located stations in Toronto and New York in North America.
According to reports, the units were established to combat transnational crime and offer Chinese residents living overseas administrative services including renewing driver's licenses abroad and other consular services.
Meanwhile, Safeguard Defenders claimed that while helping to put a stop to various unlawful and criminal operations involving abroad Chinese, they also serve a more sinister purpose.
China has denied being the owner of the foreign stations.
Mr. Wray claimed that the US had filed several lawsuits alleging that the Chinese government had hounded, stalked, watched, and blackmailed US citizens who had criticized Chinese President Xi Jinping.
As part of the Chinese government's efforts to deport one of them, the US in October unveiled criminal charges against seven Chinese nationals who were allegedly spying on and harassing a US resident and his family.
As a result of the efforts of Safeguard Defenders, the government last month ordered the closure of one of the Chinese police stations located in the heart of Dublin, the capital of Ireland.
Additionally, recent statements from Canadian intelligence authorities indicated that they were looking into claims that China had established unauthorized police stations on Canadian land.