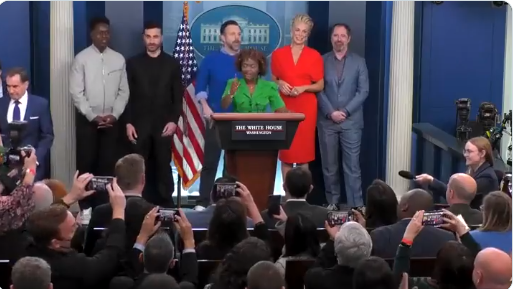 The cast of the popular television program "Ted Lasso" went to the White House on Monday to talk about the value of mental health. Yet, given that the White House has consistently refused to respond to their queries, a few White House journalists' mental health have lately deteriorated.
Several media professionals have grown weary of Joe Biden and White House Secretary KJP's lack of openness for a while now.
The cast of Ted Lasso is at the White House Press Briefing and it began with @simonateba telling Jean-Pierre "you're making a mockery of the First Amendment." pic.twitter.com/PxZnRBvTWI

— Greg Price (@greg_price11) March 20, 2023
In a comical tirade, White House correspondent Simon Ateba scolded KJP, saying, "You're making a mockery of the First Amendment! "
Although the timing may not have been ideal, Ateba persisted in defending himself and screamed at KJP to answer the questions. "This is not China," he said. "This is not Russia," he continued to yell as the gathering went crazy.
Compared to former President Donald J. Trump, who was anything but oblique and dismissive, Joe Biden and KJP have been a sharp contrast. After the press conference, Joe Biden might want to listen to Ted Lasso's advice on leadership.
Absolute chaos in the White House Press Briefing as @simonateba yells at Jean-Pierre for not giving him a question in seven months. Other reporters get very angry at him. pic.twitter.com/0g0nVwBQmU

— Greg Price (@greg_price11) March 20, 2023
Just recently, the White House is reported to be protecting President Joe Biden from the press by not allowing him to answer questions, despite pledging during a meeting with Irish Prime Minister Leo Varadkar that they would.
After his press conference with Varadkar on Friday, Biden smirked, raised his eyebrows, and disregarded shouted questions, leaving the Irish Prime Minister to speak with reporters on the White House driveway. As a result, reporters exploded in rage.