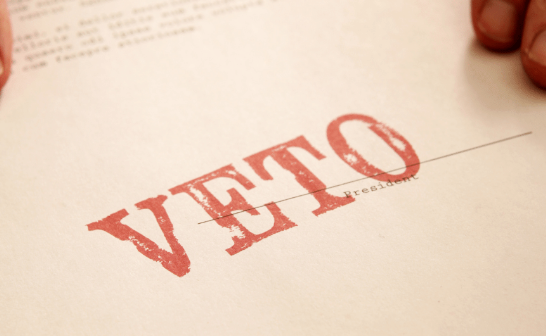 President Joe Biden's first two years in office were relatively easy for him. He controlled both the Senate and the House, so he never had to worry about lawmakers passing legislation he opposed. It also enabled him to get many of his key agenda items passed, including some with bipartisan support.
A new day dawned on Capitol Hill in January. Biden lost his House majority in the 2022 midterm elections, and when the 118th Congress took its seat, the president's agenda was doomed. He issued his first veto after only a few months of the new congressional composition.
The ESG Rule
On March 1, the Senate passed legislation to overturn a Labor Department rule that allowed retirement fund managers to consider factors such as climate change when deciding where to invest pension plan participants' money. The GOP has made environmental, social, and corporate governance (ESG) investment policies a priority in its efforts to eliminate "woke capitalism." The Biden Administration rule repealed a former President Donald Trump rule that required managers to consider only investment decisions with the highest returns.
Two Democratic senators, Joe Manchin (WV) and Jon Tester (MT), joined Republicans in voting to pass the bill 50-46. The House had passed the same bill the day before.
Bill is vetoed by Biden
On Monday, March 20, Biden issued his first presidential veto, which targeted an attempt to overturn his ESG rule. In a Twitter announcement, the president stated that he did so to protect the retirement savings of Americans across the country. He continued, "Fund managers should be able to protect your hard-earned savings."
I just vetoed my first bill.

This bill would risk your retirement savings by making it illegal to consider risk factors MAGA House Republicans don't like.

Your plan manager should be able to protect your hard-earned savings — whether Rep. Marjorie Taylor Greene likes it or not. pic.twitter.com/PxuoJBdEee

— President Biden (@POTUS) March 20, 2023
According to Reuters, Senate Majority Leader Chuck Schumer (D-NY) chastised Republicans for passing the bill in the first place. He said they were attempting to interfere with the private investing choices of the American people. He said they wanted to force "their own views down the throats of every company and every investor."
House Speaker Kevin McCarthy (R-CA) also issued a statement. He claimed that the president was attempting to use the money that Americans had saved to advance a "far-left political agenda." According to the Republican, the president's ESG rule will "hurt seniors and workers."
When Biden vetoed the bill, Manchin accused him of putting his own agenda ahead of the American people.