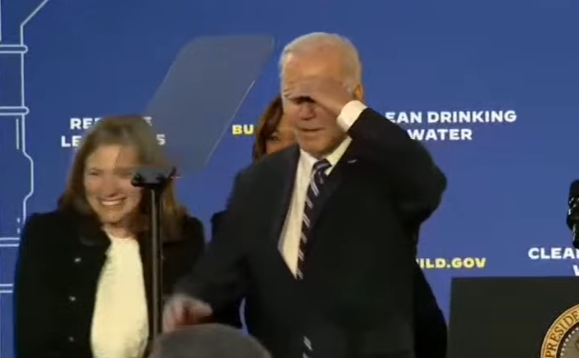 Yesterday, Biden made the mistake of declaring that "half the ladies in his cabinet were women."
He had another mental meltdown in Philadelphia today. What a presidential travesty.
Biden and Vice President Harris spoke about the economy from the Belmont Water Treatment Center in Philadelphia on Friday. President Biden, on the other hand, had difficulties giving his remarks.
Biden's cognitive abilities have rapidly deteriorated. This is one of the elements behind China's audacious actions, such as flying a surveillance balloon over the United States without fear of repercussions.
Biden struggled to speak as he noted the January adjusted employment data.
WATCH:
Oh no pic.twitter.com/BPX876YsVs

— RNC Research (@RNCResearch) February 3, 2023
This dates back to Thursday, when Biden made another blunder.
He struggled to clarify how many women are in his administrative cabinet. Biden mumbled the following:
"More than half the women in my cabinet, more than half the people in my cabinet, more than half the women of my administration are women."
WATCH
Biden: "More than half the women in my administration are women." pic.twitter.com/v0dPOE5iiG

— Greg Price (@greg_price11) February 2, 2023
Biden has been a bumbling disaster, perhaps more so since becoming office.