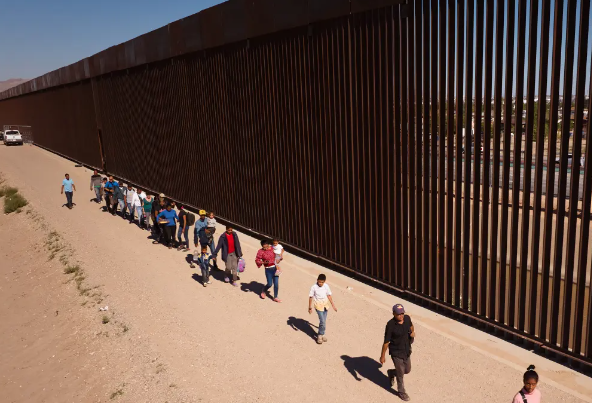 The Biden administration has taken a significant shift in its position on the construction of a new barrier along the southern border in Texas. To accelerate the building of this border wall in Starr County, TX, the Department of Homeland Security has chosen to waive over a dozen federal laws, thus avoiding protracted environmental assessments. This decision comes as a response to the ongoing migrant crisis, which has placed considerable pressure on both local and federal resources.
According to authorities, the region earmarked for construction has experienced a significant influx of unauthorized border crossings.
"There is presently an acute and immediate need to construct physical barriers and roads in the vicinity of the border of the United States in order to prevent unlawful entries into the United States in the project areas," in a notification published on the US Federal Registry, Alejandro Mayorkas, the Secretary of the Department of Homeland Security (DHS), stated.
The current Democratic administration is continuing from where former President Donald Trump concluded.
One of the major commitments made during Trump's election campaign was the construction of a wall along the US-Mexico border. His administration successfully built approximately 450 miles of border barriers from 2017 until January 2021.
The decision by the Department of Homeland Security (DHS) to proceed with additional wall construction goes against President Biden's earlier commitment to halt such projects. The US Customs and Border Protection agency contended that the proposed construction, potentially extending the wall by up to 20 miles in the region, does not contravene President Biden's proclamation.
"A plan to build a wall through will bulldoze an impermeable barrier straight through the heart of that habitat. It will stop wildlife migrations dead in their tracks. It will destroy a huge amount of wildlife refuge land. And it's a horrific step backward for the borderlands," as expressed by Laiken Jordahl, who serves as a southwest conservation advocate for the Center for Biological Diversity.
Certain members of the Democratic Party expressed their disapproval regarding the proposed plans.
Representative Henry Cuellar conveyed his message through a formal statement, "A border wall is a 14th-century solution to a 21st-century problem. It will not bolster border security in Starr County. I continue to stand against the wasteful spending of taxpayer dollars on an ineffective border wall."