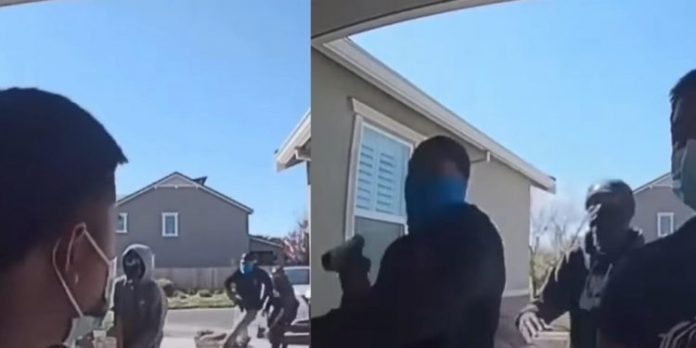 Three armed thieves stormed into a home after their accomplice convinced the homeowner to answer the door by offering to sell chocolates, according to a breathtaking Ring doorbell video.
According to authorities, the terrifying occurrence occurred in Stockton, California, at around 1:47 p.m. on Monday.
The man is shown in the video carrying a box of chocolates, posing as if he is selling them. Three armed masked guys rush inside the house when the homeowner opens the door and offers him cash.
The female homeowner was reportedly ordered to the ground as the criminals stole personal belongings from her home, according to police. They were in their twenties or thirties, she said.
The footage from a neighbor, which appears to show the same chocolate-selling accomplice performing the same trick at his door, is even more shocking.
The man, who requested anonymity, stated that he sensed something was wrong with the man who arrived at his door, so he chose not to open it.
He claimed he was suspicious since the individual ringing the doorbell was not facing his camera.
The same suspects, according to another neighbor, knocked on the doors of every house on the block.
Three Asian male adults and one black male adult are being sought as suspects in the armed robbery, according to police. They got into a black SUV and drove away. A $10,000 reward is being offered for information leading to their capture.
They're also advising residents to be cautious when welcoming strangers into their homes.