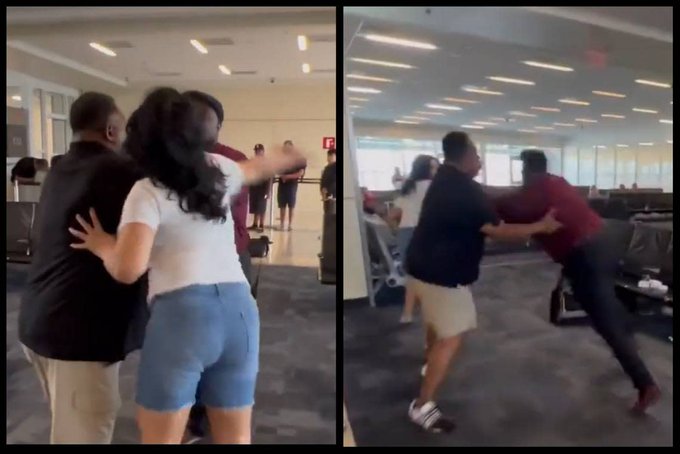 A crazy viral video of a Texas airline worker throwing blows with a lady who hurled racist and homophobic epithets at him resulted in his suspension on Friday.
At the beginning of the 90-second tape, the Spirit Airlines employee can be seen confronting the female customer at Dallas-Fort Worth International Airport (DFW).
"You have lost your mind! Don't touch me ever in your life!." In the video, which has been viewed almost 6 million times since it was initially released on Thursday, he yells at the woman in the denim shorts as she attempts to back away from him.
The agent keeps after her as she tries to retreat while yelling about how she touched him and got in his face.
The agent rushes through the man trying to prevent him, throwing a flying tackle on his adversary, and pinning her to the ground to the gasps of bystanders.
The film reveals that once she stands up, he chases her and strikes her in the head before other people rush in to break up the altercation.
In the final scene of the video, a different man confronts the agent and challenges him to a fight rather than "f—ing with a woman."
The agent tells the man, "I'll fight whoever," but the man disagrees, "You saw what she did."
Officials verified to WFAA that the clip was wrongly reported as occurring on July 11 when it really occurred on August 1. What triggered the fight wasn't immediately obvious.
Spirit Airlines said that it was aware of this altercation on Twitter on Friday.
If the female passenger was also under investigation or if any charges had been brought, it was not immediately evident. Requests for comment were not immediately answered by the airport or its police.