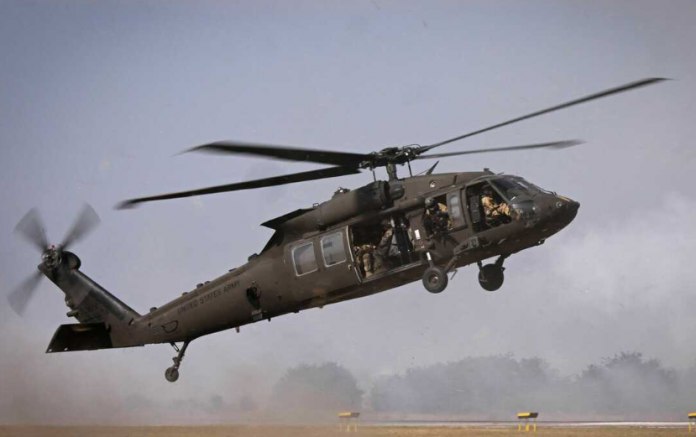 The US military has officially named the five Army special operations soldiers who lost their lives in the helicopter crash in the Mediterranean Sea last Friday. The Department of Defense has identified them as Chief Warrant Officer 3 Stephen R Dwyer, aged 38, hailing from Clarksville, Tennessee; Chief Warrant Officer 2 Shane M Barnes, aged 34, from Sacramento, California; Staff Sgt. Tanner W Grone, aged 26, from Gorham, New Hampshire; Sgt. Andrew Southard, aged 27, from Apache Junction, Arizona; and Sgt. Cade M Wolfe, aged 24, from Mankato, Minnesota.
The team members belonged to the Army's Special Operations Command and were assigned to the 1st Battalion, 160th Special Operations Aviation Regiment (Airborne), commonly referred to as the Night Stalkers.
According to a statement from the Department of Defense on Monday, the MH-60 Blackhawk was engaged in aerial refueling training when it encountered an in-flight emergency, leading to the helicopter crash. Three US officials disclosed that the incident occurred off the coast of Cyprus.
The Pentagon has disclosed that the Army's Combat Readiness Center is conducting an investigation into the factors that led to the crash during the Veterans Day weekend.
In a statement issued on Sunday, President Biden expressed his condolences for the five elite soldiers, mourning their loss. He described their daily acts of bravery and selflessness as a lasting testament to the best qualities of our nation.
"Jill and I are praying for the families and friends who have lost a precious loved one—a piece of their soul. Our entire nation shares their grief," the Commander-in-Chief stated.
Lieutenant General Jonathan Braga, the commander of the Army Special Operations Command, noted that the deceased soldiers come from unique and deeply patriotic families with extensive military service connections that extend across multiple generations and units.
Dwyer, who graduated from West Point in 2009 and held the highest rank among the soldiers on the helicopter, fulfilled roles as an MH-60M pilot, mission planner, and instructor pilot.
With deployments to Iraq and Afghanistan, Dwyer's accolades encompass a Bronze Star Medal, the Meritorious Service Medal, the Air Medal with a Combat device, along with several individual, service, and campaign honors.
Barnes, the co-pilot of the Black Hawk, completed his education at Gonzaga University in Spokane, Washington, in 2011, before enlisting in the Army.
With deployments to Iraq and Afghanistan, Barnes has received commendations such as the Distinguished Flying Cross with a Valor device and the Air Medal with a Combat device, in addition to other campaign honors.